South Tyler Rotary meets at First Christian Church on the corner of S. Broadway and WSW Loop 323 on Mondays at 12:00.  The meal is $9.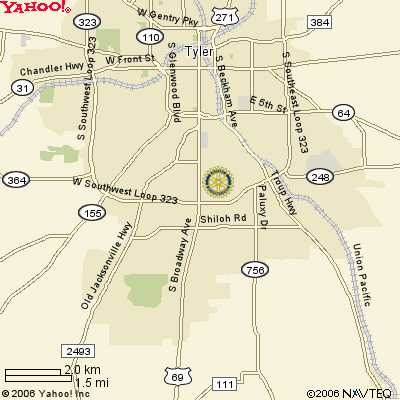 **********
AREA MAKE UP OPPORTUNITIES
Monday
Mineola Civic Center
Tuesday
Lindale Community Center
Longview Summit Club, 210 E. Methvin
Troup First UMC
Wednesday
Jacksonville Cherokee Country Club
Kilgore Meadowbrook Country Club
Thursday
Tyler Sunrise – Women's Building – 6:30AM
Bullard Sunrise -  Kiepersol Estates – 6:30AM
Tyler Rotary Club- Hollytree Country Club
Gladewater Chamber of Commerce
Canton Ranchero Restaurant
Athens Country Club
Friday
Henderson Golden Corral
Overton Community Bldg.
* All meetings are at 12:00 unless noted otherwise.