South Tyler Rotary meets at First Christian Church on the corner of S. Broadway and WSW Loop 323 on Mondays at 12:00.  The meal is $10.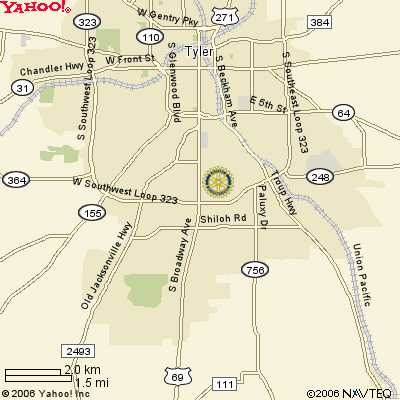 **********
AREA MAKE UP OPPORTUNITIES
Monday
Mineola Civic Center
Tuesday
Lindale Community Center
Longview – First Baptist Church
Troup First UMC
Wednesday
Jacksonville Cherokee Country Club
Kilgore Meadowbrook Country Club
Thursday
Tyler Sunrise - Hollytree Country Club - 6:30AM
Bullard Sunrise -  Kiepersol Estates – 6:30AM
Tyler Rotary Club- Hollytree Country Club 11:45AM
Gladewater Chamber of Commerce
Canton Ranchero Restaurant
Athens Country Club
Friday
Henderson Golden Corral
Longview Greggton – First Baptist Church

Overton Community Bldg.
* All meetings are at 12:00 unless noted otherwise.